2/20/11.  I've been doing a lot of estimates since this little thaw we've been experiencing. If you're looking to get some work done early this Spring, now is the time to call. The schedule is filling up fast. Call for a Free Estimate or go to the Contact page and send me an email. Tom Froster, owner.
01/09/2011.  Free Estimates. We get the tree service rolling for the season around mid March. To get an early estimate, call or email anytime. We fill the schedule quickly once things get moving, so call early. We carry Workman's Comp and Liability Insurance year-round. The emergency service is still available year round. 
12/15/2010. HAPPY HOLIDAYS to all my friends and family. And a special thanks to all the clients who have made this a successful and enjoyable year for the crew here at Tom's Tree Service. We look forward to serving you again in 2011.
 FOR SALE. November 29, 2010.  I recently acquired an 11-ton capacity R. O. Boom Truck. It has a maximum working height of 65 ft. Mounted on a 1986 Ford 8000, single axle truck, CAT diesel: 78,000 miles. Recent OSHA and DOT inspections.  E-mail or call with any questions. See the following gallery for pics.
November 6, 2010. Dead maple removal. Just a little update on the last video I posted. This is everything that came before the Firewood video. If you need a tree removed in our Service Area, go to the Contact Page and give me a shout. Estimates are Free.  Winter rates in effect.
October 11-15, 2010. Early this week we'll be removing oak trees in Norton Shores. If you're interested in a load or two of unprocessed, unsplit firewood we offer free delivery locally. You'll have to cut this wood up yourself, but the price is right: $100.00 for a full load. Later in the week you can find us further north in the west River Rd. area. We'll have hard maple available at that time. A video showcasing an average truck load follows:httpv://www.youtube.com/watch?v=koDyKnzej5U
September 29, 2010. A few pics from yesterday. Removal of  maples.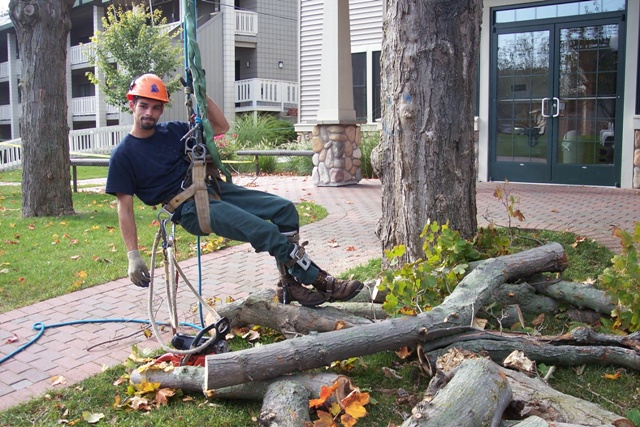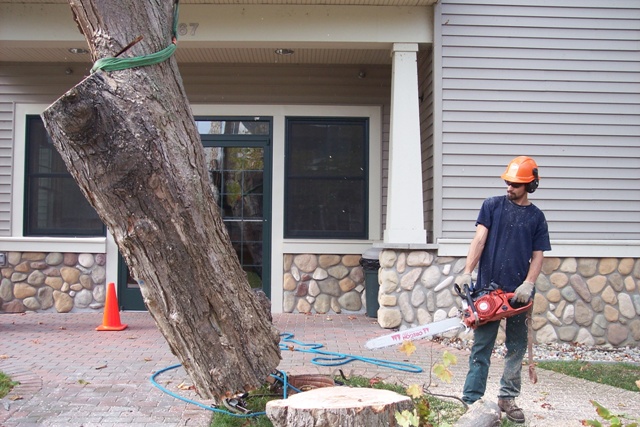 September 1, 2010. Removal of a 95ft pine in Nunica, MI. Link to video: http://www.youtube.com/watch?v=nGvj_t9zH9U
August 25, 2010. Spring Lake MI. Removal of a dying maple. See Gallery below.
August 17, 2010. Norton Shores, MI.  See our video below of a recent 95 ft. pine removal. Click on the link.
http://www.youtube.com/user/Treetom#p/a/u/0/DcO3K3t8HLo
August 13, 2010. Norton Shores, MI oak tree removal, gallery below. In other news, we'll soon be clearing a lot in Stoney Lake. We'll have a lot of FREE WOOD CHIPS, delivered free in the Stoney Lake area. Rustic quality, not treated. Good for fill, lanscaping and gardening. If you're interested give us a call. Or email inquiries  to <axeman@treetom.net> First come. First serve.
August 2010. Recent removal of  oaks in the Hackely Hospital neighborhood. Muskegon, MI.
For you folks looking to stock up on firewood for the Winter. We sells logs right off the job site, uncut, unsplit. If you're a do-it-yourselfer, who's not afraid to get his/her hands dirty, this may be the option for you. We can deliver a load free, locally. Prices range from $50.00-$100.00 for a truck load: 8'x16'x4′ truck bed size.   Gallery added 7-24-10
Some pics of the crew at work in the Glenside neighborhood, Muskegon, MI. Welcome to Zack Froster, newest member of the crew. Orange hard hat last two pics.
Here's some pics from a few weeks back, creating a view of Muskegon Lake for a client on Lakeshore Drive in Pinchtown, Muskegon, MI.  And so, summer officially begins. We're looking forward to serving you again this year. One of our specialties is trimming trees so you can better enjoy the view from your cottage. If you're an out-of-towner who's not sure who to call, you've come to the right place.